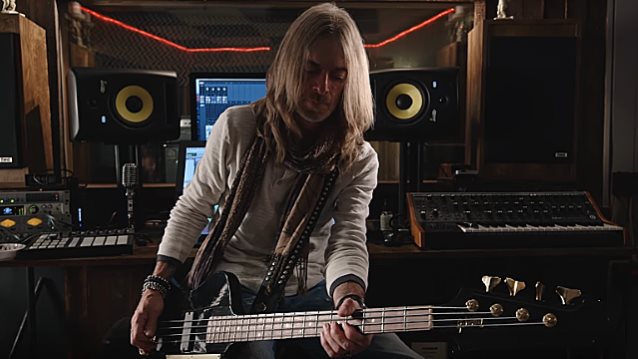 Article in Blabbermouth: Former PANTERA Bassist REX BROWN Featured In Latest Episode Of ERNIE BALL's 'String Theory'
Ernie Ball's latest "String Theory" episode features former PANTERA and DOWN bassist Rex Brown. The seven-minute clip can be seen below.
As the last of 26 grandchildren, it was through Rex's older sister that he was first introduced to rock music: THE ROLLING STONES, THE BEATLES, THE STRAWBERRY ALARM CLOCK, THE TURTLES. Hearing ZZ TOP when he was 8 or 9 years old, however, was what sealed the deal by giving him his first taste of "the boogie."
Rex appreciates the bass approach in which the bass doesn't "step on the vocal" but locks in with the riffs and the drums. He says that John Paul Jones (LED ZEPPELIN) and Geezer Butler (BLACK SABBATH) play in that style better than anybody else.
Rex and his former PANTERA bandmate "Dimebag" Darrell Abbott grew up making music together, and essentially taught each other how to play. Rex says that without those days of grinding, they never would have become as tight as they were.
"String Theory" features a selection of Ernie Ball's most innovative and influential brand ambassadors as they talk about the sonic origins of their tone and playing styles. Created and produced by Ernie Ball, the series — which can be seen at this location— is filmed in the home studios where artists can pick up their guitars and demonstrate skills and tricks they'e learned on their lifelong exploration of the guitar.
Ernie Ball was the first to offer rock strings with the creation of Slinkys, the iconic light-gauge electric guitar strings that are widely revered by hundreds of guitar greats, including Jimi Hendrix, Eric Clapton, Keith Richards, Jimmy Page, The Edge and John Mayer. Ernie Ball further revolutionized the market by offering guitarists custom-gauge single strings. With its founder's dedication to preserving the musician's playing experience and delivering superior sound quality through the development of new products, the family-run company has been on a continued pursuit of innovation. Throughout the last decade, Ernie Ball has built on this foundation to develop strings that are uniquely superior and different, and as a result created Cobalt and M-Steel strings.
Ernie Ball Music Man is a division of Ernie Ball that manufactures an extensive collection of guitars, basses and amps as well as signature instruments designed by world-class musicians. Originally founded in 1974, Music Man built its name leading an industry revolution and introducing active electronics on its production instruments.
As part of the team during the '70s, Ernie Ball CEO Sterling Ball played an important role in the design and development of the iconic Stingray basses. Officially purchasing the company in 1984, Sterling, joined later by his sons Scott and Brian, has built a team of dedicated professionals who collectively share a common goal: building the highest level of hand-crafted instruments available.
Shipping to more than 135 countries from the central coast of California, the brand continues to expand its reach worldwide based on the strict quality standards, innovative design and the finest craftsmanship it is known for.
Ernie Ball Music Man guitars and basses are made for musicians all over the world and have been played by some of history's greatest musicians, including Steve Morse, John Petrucci, Eddie Van Halen, John Fogerty, Tom Hamilton, Cliff Williams and John Deacon.
For more information, visit www.ernieball.com.
Brown's debut solo album, " Smoke On This", will be released on July 28 via Entertainment One (eOne). The disc will be the first time in Brown's career in which he will serve as both lead vocalist and guitarist in a band.